Large Deposits Needed To Trade Binaries?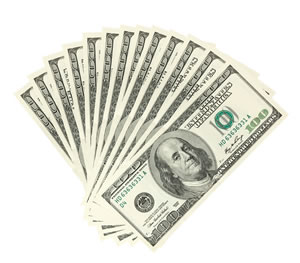 Do You Need a Big Account to Trade Binary Options?
Many binary options online brokers put up some pretty strict restrictions on the sizes of your trades; for example, the maximum size for a trade with TradeRush is $2500, and the minimum size is $5.00 (for the 60-second options). The implication is that binary options online trading is geared toward people who have a small to moderate amount of money to invest. If you have more than $2500 to put up for a trade, you'd have to trade elsewhere, though similar restrictions are found with other brokers.
So what you may be asking yourself is,
"Do I need a big bankroll to trade? If the minimum deposit is $200, and I can risk as little as $5, I don't need a lot of money to succeed, do I?"
The answer is perhaps a little more complicated. Let's take a look a little closer about how large of a deposit you should make in order to give yourself the best chance for success.
Does A Big Deposit Into A Binary Broker Matter? How Large?
On any given trade, a responsible trader hoping to trade for the long term is only going to risk a tiny percentage of his or her account—about two to five percent. This actually means that if you do deposit the minimum to open an account ($200.00), risking $5.00 on your trades is a reasonable amount.
Of course, there's an obvious drawback which you're probably going to see immediately, and that's that you're going to take a very, very long time to make a lot of money risking $5.00 per trade, even if you're wildly profitable and you have very few or even no losses (which isn't likely to happen).
Big Accounts And Big Trades – The Way To Go?
$2500 is five percent of $50,000. You'd need a bankroll of about $50,000 to consider responsibly investing $2500 on your trades—the maximum amount you can risk on each trade. You can invest less than that and still make a fair amount of profit each month, depending on the trading method you come up with, so you probably don't need $50,000 to open your account, but hopefully now you can see that $200.00 isn't going to generate a lot of money.
The last thing you should do is open an account with $200.00 and either risk a large chunk of it on a trade or risk $5.00 on numerous 60-second trades that may or may not be good trades, especially given that such a small timeframe will cause you to lose your money very fast if you aren't really good at trading.
You probably should shoot to open an account with something closer to $10,000.
This would allow you to risk $200-$500 on your trades. With only a few good trades a month would make you a couple thousand dollars. As you grow your account, you can risk more. If you do start with a , the most important thing to remember is not to get impatient and sacrifice good trading decisions, or you'll soon find yourself back to square one, trying to save up money to open a new account. Of course, if you have the then you could care less about minimum deposits.
Is One Broker Better For Big Deposits?
If you are making a large deposit at a binary options online broker then you will probably want to make a deposit at or . They are world class binary options online brokers and offer elite levels of service for their clients. You will find the types of options you are interested in trading and the customer service, trading flexibility, funds access (be cautious on accepting a bonus!) and a personal account manager that will handle your account directly along with you.
More Resources You Might Find Interesting
Common Candlestick Patterns